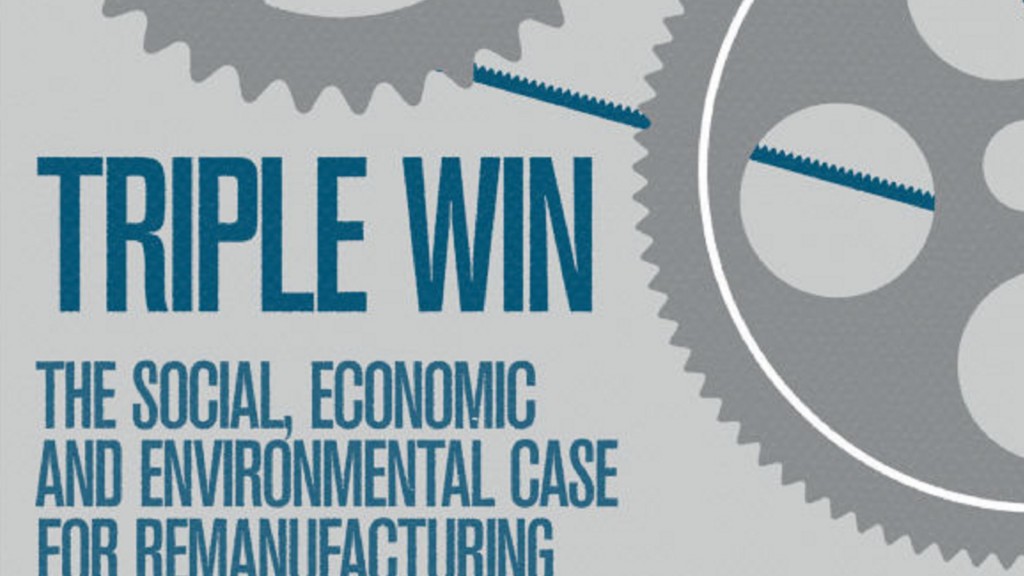 Last month, the RSA Great Recovery attended the report launch of 'Triple win: The social, economic and Environmental case for remanufacturing' that took place at Westminster, written by the All-Party Parliamentary Sustainable Resource Group (APSRG) and All-Party Parliamentary Manufacturing Group (APMG). Here Miranda Dixon reports back on the launch and the report's recommendations.
This latest report is packed full of positive and motivational insights that view re-manufacturing not just as a necessary business model but one with social, economic and environmental benefits.
Lib Dem MP Dan Rogerson began the launch by stating that global demand will triple by 2050. Our world lacks the resources to cope with this demand, and one of the problems lies in the definition of waste. The implication of waste is that it's a lost cause, with which nothing can be done to reuse or salvage it. This attitude is itself a huge barrier to the potential of a circular economy and is one of the reasons that re-manufacturing is not more widely considered. In fact, the report revealed that
'54.4% of manufacturers are unaware of, or have not considered remanufacturing.' (EEF unpublished data)
However, the report also says that there is motivation across the board to tackle this problem. Chris Holmes, managing director for waste and bio-energy at the Green Investment Bank, spoke about 'circular finance' and the view that we need a diverse range of investors for the diverse set of problems that we are facing, to provide increased incentives to businesses.
Shahin Rahimiford, Professor of Sustainable Practices at Loughborough and Director of the Centre for Sustainable Manufacturing and Recycling Technologies proposed that automated manufacturing practices need to be translated to automated re–manufacturing through, amongst other things, a decision report system, shared knowledge and better inspection. This way, the process is more viable and attractive to investors.
So what did the report have to say about the role of design in re-manufacture? Recommendation 21 states –
'…government should encourage the development of sustainable design and sustainable engineering models and courses at university '.
From my experience as a design graduate, the use of sustainable materials were encouraged as a preferable aspect of a design at my university, along with cost effectiveness and designing for mass manufacture, but students are not encouraged to think about the 'end of life' for a product? What might our consumer do with our design when it's no longer needed or it's broken? However this isn't to say that designers do not jump to take up this challenge, as often the more boundaries there are, the more innovative their results.
David Fitzsimons of Oakdene Hollins says in the report –
'Product designers are willing and able to respond to the challenges of remanufacture. The task for the government is to create the economic framework in which they compete to do so.'
The report goes on to point out the restrictions to design for remanufacture that come from two main sources. The first is the top-down systems within organisations who don't include remanufacture as a necessity within a design commission. The second source is the training and education systems involved in engineering for remanufacture, that don't place enough emphasis on material sustainability.
So isn't this the answer? Before businesses can consider remanufacture, the option must be afforded to them by original designers and manufacturers that destine a product to be re-manufacturable – or not.. And as with all innovation, we need investment both to trigger the revolution and oil the wheels along the way.
It is good to see support for design as a part of the remanufacturing process, but in this 106-page report – as elsewhere – it is only given a peripheral mention.  We need to see more!
Download the report here