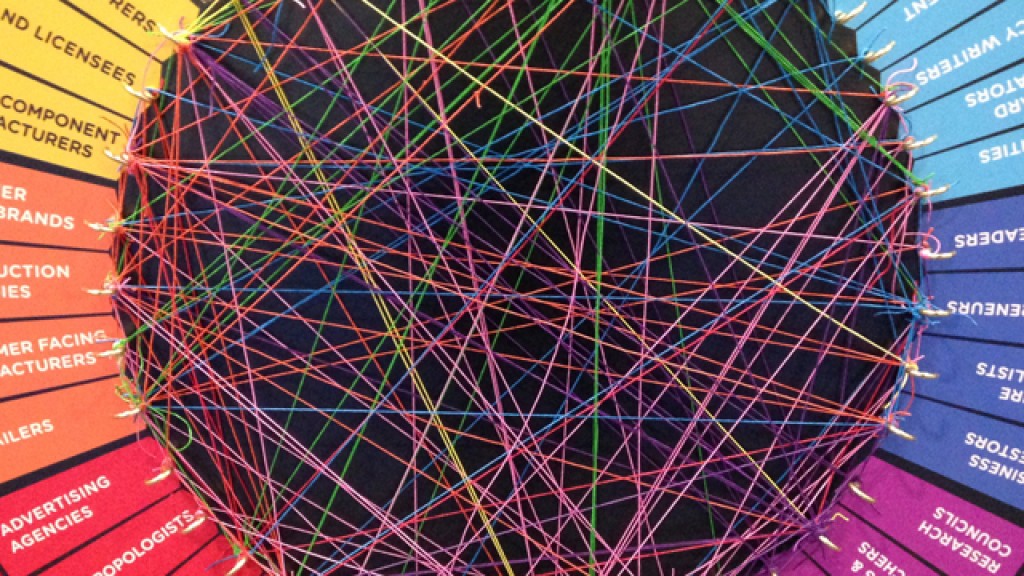 We were thrilled by the reception we received at the Resource show last month. Having managed to bag ourselves a front-of-house space, an incredible number of visitors came by to tell us how much they loved the stand, how useful they found our colourful diagrams, and how much they were looking forward to the next phase of the project!
The network
Using low-tech colourful string and paper tags, we collected information about the sector each visitor worked in, the sectors they wanted to link up with in order to pursue more circular practices, and the major challenges they experienced in trying to implement a circular economy model within their own workplace. At the end of the three days, we had a pretty spider's web of string (see pic) that demonstrated simply but effectively the new connections that people wanted to make. Interestingly perhaps, there weren't any blindingly obvious trends, and it became very apparent that everyone was eager to connect with everyone else! If we had to pick out a few tendencies, however, it seemed that designers were keen to join up with materials experts, manufacturers and policymakers, and that manufacturers were more than a little enthusiastic about some investment. Resource managers wanted to be linked up with designers and materials experts (makes sense if they are to know what to do with all that waste), whilst the nest of twine around the left hand side of the wheel indicated that consumers, brands and manufacturers were all keen to cosy up with each other.
We have been busy recording all of this information so that we can create some really practical networking events, workshops and design residencies. Watch this space for circular economy speed dating and more!
The materials library
Also on The Great Recovery's stand at Resource was our new materials library, which gathered together more than fifty different materials – all of which presented either a challenge or an opportunity (or both) for the circular economy.  Most of these had at one time or another been classified as 'waste', and came from industries as diverse as construction, fashion, furniture, chemicals and food. We even had discarded items from film sets, kindly donated by a company called dresd which ensures that these are reused, repurposed and end up in loving homes!
The library is being carefully stored until the opening of our permanent central London Hub space, where it will be on display for everyone attending our workshops and events. We will also be adding to it as we come across more materials that fit the circular economy 'challenge/opportunity' bill. If you have something you'd like to donate, please get in touch with lucy.c@greatrecovery.uk.org.
The Big Brainstorm
On the Tuesday afternoon, The Great Recovery ran a big brainstorm session based around three specific challenges: retail fit-outs, washing machines and fashion. Many stores are kitted out with interiors that would last more than 30 years, and yet are ripped out and replaced after only 3 – along with changing trends. According to research by WRAP, washing machines often fail to meet customers' expectations for the product's lifetime, whilst fashion, as we all know, is an industry of fast consumption, waste and obsolescence. We grouped the audience up to discuss these challenges and pitch their solutions back to the others.
In 20 years or so there will be less space for growing urban populations and their 'stuff', so perhaps washing machines will be obsolete anyway. How about if we just put our clothes away in a 'cleaning cupboard', which denatures smelly bacteria and leaves them fresh the next morning? Or what about a service model for washing, where you hand over dirty clothes to the local centre and tell them whether you'd like the clothes to be cleaned and returned – or whether you'd like some new clothes instead!
How would you fancy a 'Chameleon shopping experience'? Rather than just warehousing a load of duplicate clothes that are time consuming to sort through, shops would be designed more like exhibition galleries, where you could view and try on a whole range of items before ordering at leisure. The debates around fashion were many and varied, with the evils of fast fashion being exonerated through new business models, and new materials being envisaged which could cycle at high value almost indefinitely.
The workshops
We also held two 'tear-down' workshops that engaged visitors with the challenges of electronics and textiles design by actually taking products apart. After mapping out the complex supply chains of some of the materials and chemicals included in shoes, clothes, kitchen appliances and mobile devices, we got our heads round the ludicrous journeys that some of these items take on their way to – and from – the customer.
And then we got our hands dirty!
It's incredible how hard it is to get inside a rubber-soled shoe, or a phone, when the manufacturer has stuck everything together with industrial strength glue. In fact, it's often not possible at all without cutting, breaking – or at least bending – a part of it. So, is this down to cold-blooded, intentional obsolescence on the part of the manufacturer, or is it just a blind focus on cost reduction at the expense of all other considerations? The answer is never straightforward; most likely it's a mixture of both.
Participants were by turns amazed at the compound variety of materials contained in one product, horrified by the incredible amounts of labour and energy involved in getting them to the user, and shocked by the obvious lack of design for repairability and re-use. One shoe may include metal, wood, leather, card, PVC, textile and rubber – all held together by a healthy helping of impenetrable glue. One laptop may include over 100 chemical components sourced from more than ten different countries – and likewise stuck down with impermeable solvents.
Engaging people with the materials around them is often the first stage in getting them to reimagine products and services as part of a more circular economy. And it is this practical engagement, together with the process of redesign, that The Great Recovery will continue to pursue in its next phase of work.