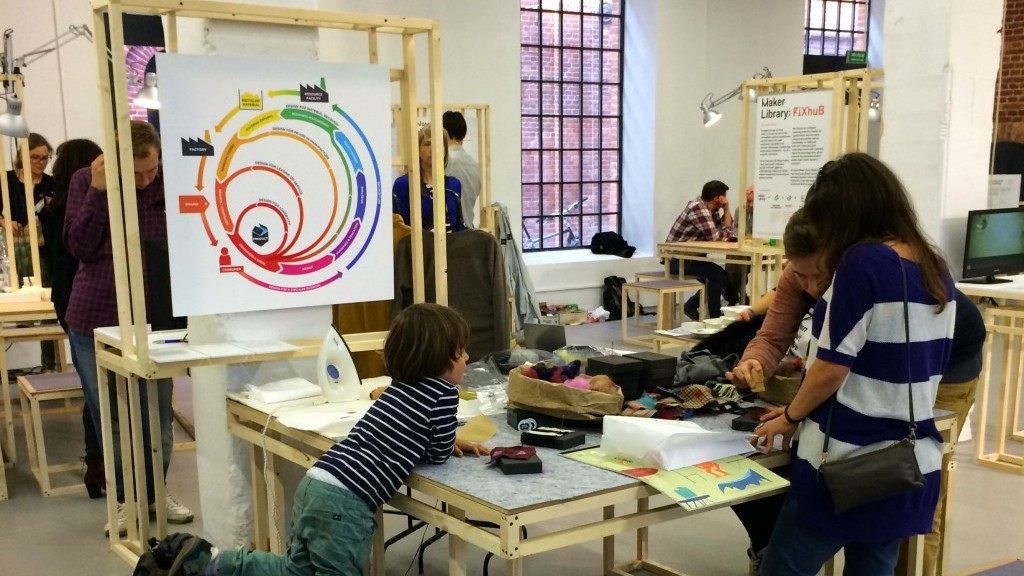 Daniel Charny, Director at From Now On, Professor of Design, Kingston University, London. 
Daniel Charny curated the Fixhub for the Lodz Design Festival, Poland's largest design event, in October 2014. Here he talks about the thinking behind the Fixhub as a prototype for a new type community makerspace for every neighbourhood
"The future needs a new relationship with making. A forward-thinking, backward-looking, sideways-stepping kind of making. A making born of the imaginative use of skills. Something like fixing."
Our lives in the 21st century have been shaped by industrial revolutions and mass-production. And while quality of life has improved through democratised access of goods to millions, it has come at some heavy costs. One of which is that the abundance of low cost standardised products and their distribution is a massive strain on our environment. Another is that it is impacting on the identity of humans as makers. Most people, including professional designers are so distanced from the experiences of fabrication that we are loosing the knowledge of materials and making. Most people live with the limited choices of buying new or doing nothing. This 'Brave New World' needs fixing. Fixing in the sense of addressing the balance of knowledge and access.
The Fixhub prototype explores a vision in which more of us can repair and make things ourselves. It proposes a place where people can make fixing part of their day to day life. Building on new models of public-facing makerspaces like the Fablabs and repair cafes, the aim is to offer a low barrier access where people can build confidence in making through fixing and repair.
The Fixhub was developed in close collaboration with the emerging British Council Maker Library Network which actively promotes social creative collaborative studios where making, reading and showing work all take place in the same environment.Maker Library Fixhub offered daily courses on repair and design in the makespace. The Library displayed  specialist reference and inspiration books about making and repair. A special section, developed in collaboration with the RSA Great Recovery Materials Library was dedicated to materials that are setting particular repair challenges. Another section, developed with the Institute of Making showcased a selection of materials with unique properties such as self-healing concrete or strong adhesive qualities that will be used in the future. The gallery element presented a review of strategies and approaches to fixing. Ranging from practical solutions for repairing broken things to celebrating repair as new aesthetics. Exhibits included projects about accepting the broken by adaptive modified behaviour alongside inventions for reusing materials and rethinking distribution systems.
A special section of the exhibition engaged visitors with maker movements manifestos and invited them to join a debate speculating on what our world may be like if fixing became the norm or what if fixing was banned ?
A key reference to the project was Aldous Huxley's Brave New World, which was the wider theme of the Lodz Design Festival for this year. The exhibition in the Fixhub was titled Brave Fixed World and incorporated the provocative Hypnopaedic slogans claiming that 'The more stitches the less riches' and that 'Ending is better than mending'.
Whether you think of fixing as a utopian or a dystopian idea, as an essential opportunity or a sentimental backlash, it is part of our future. How much and in what way depends on how people, societies, organisations shape its environmental and cultural significance. Many minds need to be involved in making these plans and many more hands in enacting it. Design and designers could have a significant role in a much needed stewardship.
The Fixhub is joining the emerging Maker Library Network (MLN), developed by the British Council ConnectZA programme, to connect young creatives in South Africa and the UK.  The Lodz Design Festival Maker Library is the first pilot of the Fixhub model and aims to introduce and extend the MLN to new regions.
Partner of the exhibition: British Council