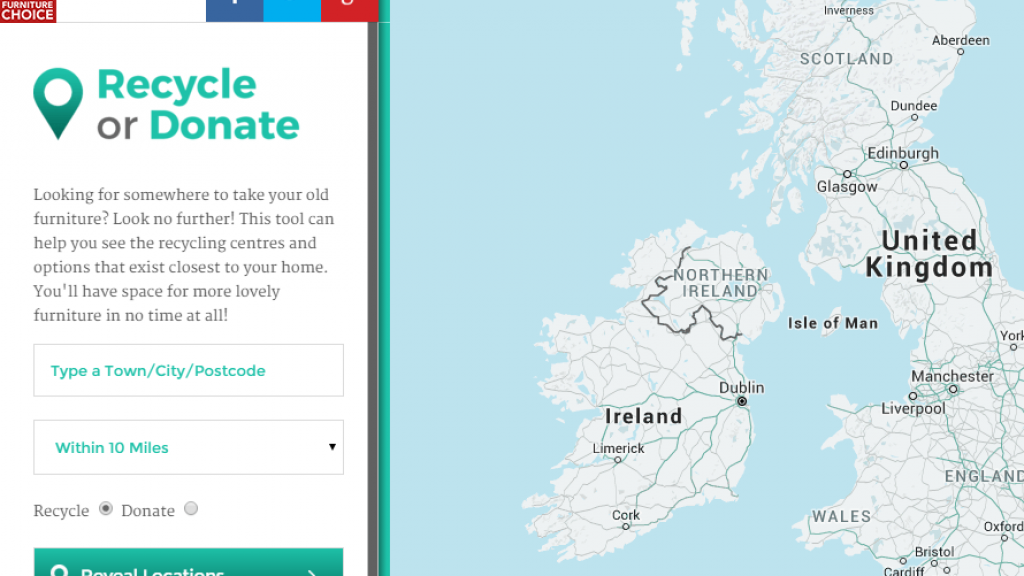 Following the release of our Rearranging the Furniture report, we were pleased to hear from furniture retailer, Furniture Choice, letting us know that they were already thinking about what steps their business could take to reduce furniture waste, and have recently released a recycle or donate tool on their website.
The map based tool allows the public to search for recycling centres or charity second-hand furniture organisations in their local area, see their opening times and directions and enabling them to choose what to do with their items.
Furniture Choice hopes that the tool will both prompt their customers to see the importance of recycling or rehoming their current furniture and support them to do so.
Tom Obbard, Director, said: "As a business we want to ensure that we are meeting all our customers' needs, but raising the importance of recycling is similarly important to us.
Issues such as fly tipping and sending items to landfill are of great concern to us, so we wanted to make people aware of just how easy and beneficial it can be to others when furniture is donated or recycled. With the new tool, we can hopefully cut down on the amount furniture waste generated in the UK."
It's important that retailers take opportunities to support and encourage their customers to see the value in their furniture, and are very pleased to see this happening.
Our report also recommends that manufacturers and retailers:
Stitch fire labels into products where they can't hang out, or stamp them on to the furniture so they can't be cut off.
Start to progress business models that allow for and encourage products or materials to be returned.
Encourage longevity by providing longer warranties for products. Introduce finance models that enable longer term investments in product.
Manufacturers and designers should interact with waste managers to gain insights into designing in second and third life opportunities for furniture.
Encourage a culture of innovation and experimentation around the circular economy.
Try out Furniture Choice's new tool here
Read the Great Recovery's '7 Things we can do to keep our sofa's out of landfill'
For further information on where to recycle furniture and most other household items, visit Recycle Now