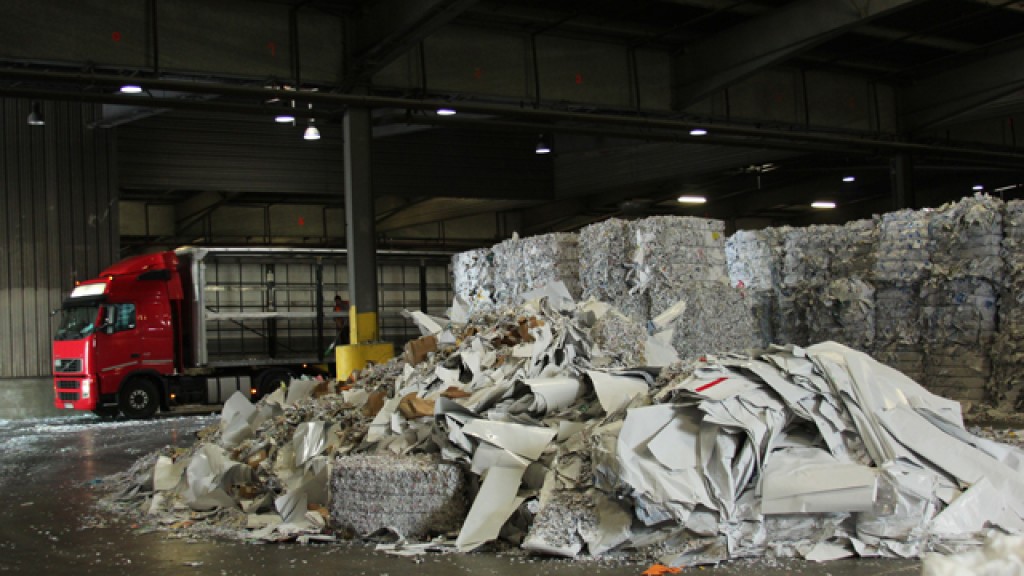 "I'm a great believer in trying to reconnect design and manufacturing, to get back to something a bit more authentic and a bit less in a silo."
This is Siôn Whellens of Calverts printing co-op speaking about why he organised for a group of design professionals to go on a tour of two paper mills in June this year. We think his words speak right to the core mission of The Great Recovery project.
Following The Great Recovery workshops held in material facilities around the UK, such as the Geevor tin mine in Cornwall, the Closed Loop plastic bottle recycling plant in Dagenham and a visit to Caterpillar Remanufacturing in Shrewesbury, to name but a few, we were fortunate enough to be invited to learn about the manufacturing process of another key design material, paper.
This time we journeyed further afield, across the Channel in fact, with other designers, writers and printers keen to learn about how the material most central to their work is made. Our host was Arjowiggins, a European paper company that, over the last few years, has focused its efforts on developing recycled paper for the digital printing market. They are a world leader in the production of technical and creative papers and produce a staggering one million tons of paper each year.
Arjowiggins Graphic is the arm of the company that was set up to specialise in recycled papers and in 2012 WWF rated them as the number 1 environmental fine paper company in their paper index. In this context The Great Recovery set off to find out how the paper industry is surviving in the digital age, what materials resource issues they are working with and how they are developing circular manufacturing systems to increase the stability of their industry.
In France our group visited two facilities, a pulp mill to see how post consumer paper stock is recycled back into pulp board, and a paper mill to see how that pulp board is turned into graphical printing paper. We saw some fascinating examples of circular manufacturing along the way.
The first stage in the recycled paper making process happens at the Greenfield site, north-east of Paris, where post consumer waste is broken down into a pulp. This facility was the first high white recycled pulp producer in Europe and uses a new chlorine free production process, which means no harsh bleaching chemicals are used to whiten the paper.
Here the waste paper, which is mostly sourced from sorted office waste, goes through several processes including pulping, de-inking and whitening to return it to a serviceable material for paper making. In an excellent example of closed loop design principles the resulting residue of de-inked sludge is used to make fertilizer for local farmers who spread it on their fields. It can also be used in the production of cement and bricks for the construction industry.
In 2012 Greenfield took in 190 000 tons of paper waste to remanufacture into recycled content. To put this in context 30 000 tons of that was from the UK, which makes up 8% of their market. The supply and demand of paper waste recycled into newly purchased paper nearly balances out as Arjowiggins supplied 20 000 tons of recycled paper back to the UK last year.
The next day at the Wizernes paper mill, near Calais, we saw the pulp board from Greenfield being delivered for the next part of the manufacturing process. With a refined high quality recycled base material the paper making proper can begin. Like in Greenfield this starts with hydropulping, where the pulp board is broken down by water using a ginormous metal corkscrew in an equally enormous cylindrical container.
The recycled paper making process is much more efficient than that for virgin fibre, which normally uses 2 to 3 tons of wood to make 1 ton of paper. By contrast less than 1.5 tons of fibre from recovered paper is enough to make 1 ton of recycled paper. The process also has a much lower impact on the environment as whole, using three to four times less water compared to virgin wood fibre pulp, two times less energy and it produces four times less carbon emissions.
It was extraordinary to see the huge, noisy steamy machine the paper went through on its journey to becoming a printable material again. It is four metres wide and moves extremely fast, at 1300 m a minute, producing 472 tons of paper a day. While there can be errors made in such a fast process, interestingly there is never any waste in this factory as the faulty stock just goes straight back into the hydropulper and back to the beginning of the process.
Given that hydropulping is one of the principal processes in both Greenfield and Wizernes it is clear that water is one of Arjowiggins main resources. Julian Long, National Key Accounts Manager at Arjowiggins Graphic, and our expert tour guide, explained that the company is meticulous about its water consumption, knowing that it's a natural resource in ever increasing demand. "It is very important to us that our production techniques maximise the use of water and that we recycle it as many times as is practical. We're certainly not wasteful in anyway," says Long.
Indeed the water used at both factories operates in its own cycle. Arjowiggins have to pay to draw it from artesian wells and then pay to discharge it into the river. Julian Long informed us that they take their water filtering duties very seriously as there are financial incentives to return the water in its cleanest possible state. He proudly pointed out that people still enjoy fishing by the mill, indicating that it is clear of pollution.
Cyclical and waste efficient systems have apparently been core to the Wizernes site long before Arjowiggins arrived. The paper mill's original function was as a water powered wheat mill. Julian Long recounts an earlier tale of material recycling, "At the beginning of the 19th century, when mechanised printing was really starting to take off, the mill owners realised they could use waste straw as a fibre for making paper. So that is how it all began here."
It is fantastic to see Arjowiggins both pioneering new technologies in the modern recycled paper industry while maintaining the centuries old tradition of resource efficiency and cyclical manufacturing processes. To find out more about our learnings from Greenfield and Wizernes you can read four supporting interviews, with Julian Long, Siôn Whellens, designer and educator Tara Hanrahan and young designer Jimmy Edmondson.