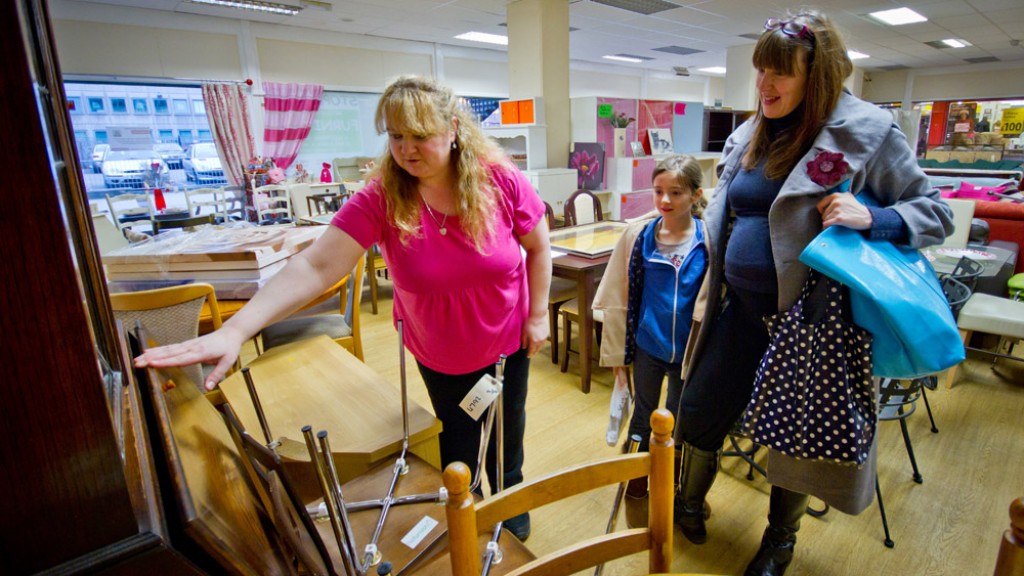 Craig Anderson OBE, Chief Executive of the Furniture Re-use Network, asks 'Are the waste and resources sectors having a reusable lightbulb moment when it comes to the circular economy?'
Image courtesy of the Furniture Re-use Network
I am becoming increasingly motivated and inspired by what I am hearing from those who deal with unwanted, surplus and discarded products. For the first time I think the waste management, recycling and resources sectors are having a reusable lightbulb moment, and are understanding that, in addition to the benefit of re-use for business, more consideration must be given to the consumer and the people that live in the society we all serve. Certain waste sector representatives appear to be suggesting moving away from material-based recycling tonnage targets to instead embracing the concept of targeting the value in discarded resources, thereby maintaining the value of products by keeping them in use for as long as possible. If these opinions and motivations are put into action I suggest we could see an early transformation in the waste and re-use sector that could lay the foundations for a possible circular economy.
The challenge
The re-use of products, be they waste or not, is a key starting point for the circular economy agenda; and making sure that poverty alleviation for the excluded consumer is recognised as a driver for change is a factor all stakeholders in a circular economy might like to embrace.
However, it is these questions about how we achieve a circular economy in our society today that I ponder:
Can we really develop a circular economy purely from a waste and resources point of view?
Can we secure the buy-in of the producers and retailers who actually control the production and supply consumers with these goods and services?
And what about the consumer? Will they be able to deal with this major evolution of the supply and demand chain?
If the government is 'managing' the economy and the state is very much in retreat, are we stuck with the status quo or worse? Who else could step-up and push for change for the environment and for a better and fairer society for people to live in?
Certain sectors are breaking from tradition and are now challenging the status quo by pushing for the adoption of circular economy principles. Change and leadership is coming from industry. Industry now needs to look at whether the consumer can handle a major upheaval of the consumer society. For me, the answer is yes. If we are to make doing the right thing appealing rather than necessary then we must identify the social benefits as well as purely technical and financial ones.
Well matched corporate social responsibility
The innovative partnerships that the small team at Furniture Re-use Network (FRN) run with major retailers and partners brought in over 78,000 furniture and electrical items, saving low income families £12 million on essential goods last year in the UK. This is on top of the three million items supplied by our members across the UK that have saved 380,000 tonnes of CO2 and helped nearly one million low income households save £340 million on essential goods. The FRN has the ambition to reduce waste and support those in need within society and so do many partners we work with.
The greatest success that the FRN has in working with commercial businesses comes about when they are innovative and have an understanding of the social context and value involved in re-use. They've seen the opportunity for a service-based partnership that meets their business needs and comes with the bonus of adding value to local communities. These successful partnerships connect the social agenda with their people, their staff, and their customers. The connection is the 'human' part of people, their relation to society and their wish to help their neighbours and their own communities.
In my opinion the current circular economy debate can learn much from the re-use sector's transformative partnerships with manufacturers and retailers. Once the logistics are in place it is crucial that we make ongoing improvements to these supply partnerships by:
Encouraging behaviour change
Using legislative and regulatory imperatives
Using the individual commercial retailer's competitive nature to encourage sister sites to compete for higher social value as well as profit, thus increasing the drive for re-use.
It probably will not surprise you that much of the impetus for a business wanting to support local social concerns is down to their own Corporate Social Responsibility (CSR) targets.
What we find is that, for a really impactful CSR-based partnership to work, it must mirror or match the business activities. Re-use offers costs savings and value to the customer, and key to this working is the business wanting to see real social benefit, not just in the eyes of their customers but for their staff too. If you remove the human resource from CSR you are simply left with a public relations exercise.
Staff within businesses are increasingly motivated by social benefits, perhaps not always at director-level, but this is certainly the case for the staff that the Re-use sector interacts with in warehouses, in yards, and on the back of vehicles: they are motivated to help their own communities, their neighbour or someone in their family.
Re-use and Local and National Government
Local Authority waste departments are guided and restrained by distant or overseas recycling markets and longstanding, some say outdated, regulatory targets – but re-use is visible and local. Local authorities could find real and tangible benefits from re-use if they wholly embraced it. Interestingly, one question that has been put to me recently is, "Do local authorities need to be involved in Re-use and waste prevention? Could waste prevention be the sole responsibility of society and communities?" Well, the majority of the FRN's members are there to support those in poverty and people with other social needs – so my first reaction would be that the sector cannot subsidise the state on waste as well as on welfare. Although saying that, the options of such devolved responsibility could be explored.
The FRN's work benefits from collaborations with governmental departments and agencies. In turn, we have been able to highlight the real and quantifiable benefits for them by savings to their budgets through incorporating re-use: we need their leadership, ambition, and action, and they in turn need ours.
There is constant policy discussion about the "definition of waste" – and this always throws up a whole host of arguments about products, waste and goods being placed back on the market having previously been used. The re-use sector diligently complies with waste regulations – and we're happy to do so – we don't need them changing. This is a departure from what needs to be looked at. What we should be considering is greater emphasis on the principles of "Duty of Care" – not solely for waste handling but extended to a duty for the waste collector and holder to ensure that products are safe and fit for purpose. It is the duty of this holder that needs regulating and not that of the re-use processor.
Circular and Sustainable Futures from Re-use
Because of austerity and welfare cuts, the re-use sector is doing what it can by stepping up to help those that cannot help themselves. But, it is ambition and action from all stakeholders that we need to make re-use more sustainable and more impactful as a business activity and to ensure that the social and environmental benefits are preserved and increased.
Here's an idea to ponder – Does a better society equal better business? Can a practical and focused CSR strategy bring businesses more profit and profile?
The business and public sectors have long avoided considering this, seeing the possibility of it as a disruption or risk. However, for the resources sector this kind of 'disruption' is welcomed as a possible future and a new business activity.
If the various sectors have the audacity and scope to make the circular economy vision a reality then let's start with re-use, and get the retailers, manufacturers and consumers involved and on-side.
Resources are scarce and demand must be balanced with supply. We need to recognise that people are an essential part of the economy. If we believe it is right to make this change and we believe that we can do it, then let's begin, expand our boundaries, have with real ambition, and take inspiration from what is practical today.
Read The Great Recovery's report on furniture waste and re-use here.