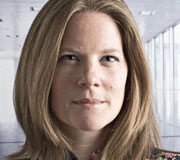 Sophie Thomas was Director of Circular Economy at the RSA.
She is a founding director of thomas.matthews, the award winning UK pioneers in sustainable communication design established in 1998. She has been working in the fields of communication, sustainable design and material process for over 15 years working with global businesses and UK government organisations to define the role of designers within the discussion around waste streams, resource efficiency and circular economies.
She co-founded a number of enterprises including greengaged, an organisation that aims to advance the design industry's capacity to respond to environmental challenges through knowledge sharing. In addition to the RSA post she has recently become Director of Design for the Useful Simple Trust where her focus is working with designers and engineers to create trailblazing work.