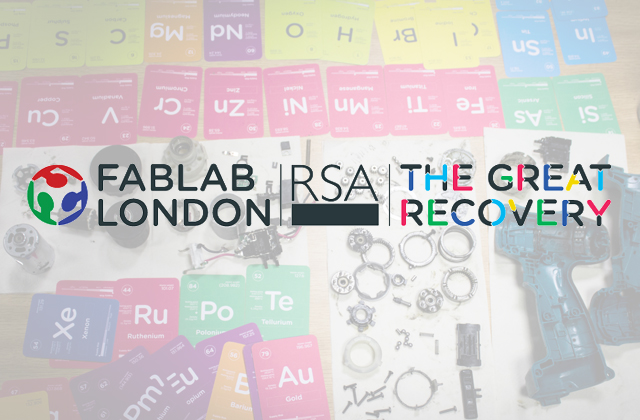 Friday 19th September, Drop in between 12pm – 5pm.
Fab Lab London, 1 Frederick's Place (off Old Jewry), London EC2R 8AE
We're delighted to announce the launch of the Great Recovery's new physical home at Fab Lab London.
To celebrate, we are hosting a launch event in collaboration with Fab Lab London and the RSA.
Activities to include:
Great Recovery workshops, films, networking & materials library – all day
The Great Recovery will be running tear-down & design-up workshops, helping you to think about your products in a more 'circular' way. We will also be screening the Great Recovery films, and displaying all sorts of interesting materials as part of our permanent materials library collection. Whether you're a designer, an individual or part of a large organisation, come and map yourself on our network wheel and network the room!
Restart Party – 2pm – 5pm
Bring your broken electronics along and the Restart project will show you how making and fixing skills can help to save your old stuff (instead of scrapping it and buying new).
Useful 3D Printing – all day
Faberdashery will be on hand to show you how to unlock the potential of 3D printers – moving beyond printing plastic trinkets to printing products that solve everyday problems and return power to the users.
Fixperts – all day
Fixperts will be showing you how design and Making can help you solve problems for others. Watch the fims and chat to a Fixpert who will be working on site.
Change a fuse with Bright Sparks – 3pm – 5pm
Bright Sparks will be teaching you how to change a fuse, and chatting about how they use making and repair to upskill their local community.
Plus lots more hands on activities and demos from Fab Lab London!
Register here for your free ticket and to find out more.