The RSA Student Design Awards aims to bridge the gap between industry and education by offering realistic, industry-led project briefs and awarding prizes aimed at developing the experience of individual students and enhancing their career prospects. The scheme is driven by the RSA's mission to promote social progress and comprises project briefs that reflect this aim. The RSA Student Design Awards are regularly embedded within the design curriculum at approximately 80 colleges and universities around the UK, including in the faculties of industrial design, product design, graphic design, interior design, architecture, and design innovation at both the undergraduate and post-graduate level. As of 2013, the RSA Student Design Awards scheme is 89 years old, making it the longest-running student design awards scheme in the world. 
One of this years recently announced winners, Chris Redford, who has just graduated from Product Design at Sheffield Hallam Uni, tells us about his winning 'circular' entry to the Change Makers brief, which asked students to "create and produce a design solution that persuades people to consume less, reduce waste and be more efficient with the planets resources".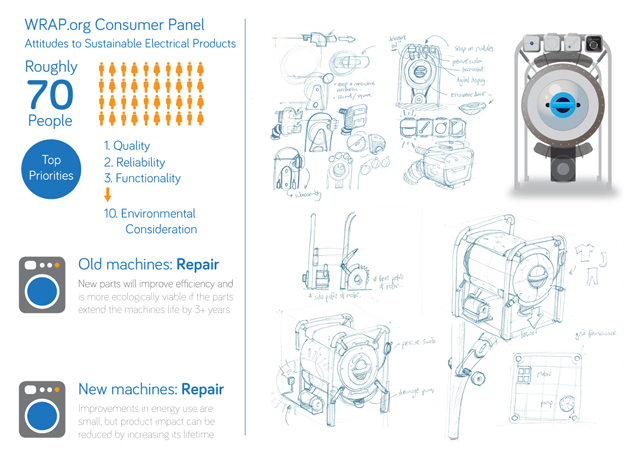 The RSA brief Change Makers was the first project of our final year studying an MDes Product Design course at Sheffield Hallam University. As a brief it was very open, providing a broad range of possible solutions. The main appeal of the brief was the way it aimed to create a more sustainable model of consumption by changing the consumer's behaviour, and in our case this would be done through engaging with a product.
I began by identifying products which are disposed of when only a single component is at fault; products that isolate the consumer from the way they function. Very quickly I arrived at the washing machine. Speaking to an engineer, who repairs these machines on a daily basis, I found that the process of washing clothes is fairly simple. Therefore diagnosing a problem and identifying a fault can be fairly easy if you know where in the process the machine stopped working.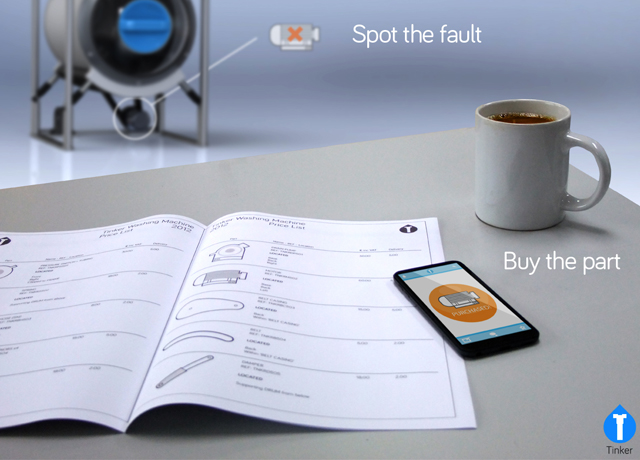 The solution I arrived at is Tinker: a repairable washing machine. It's exposed visual style reveals all the major components to the user. The purpose of this is to empower the owner to understand which part has failed and gives them the confidence to approach it and replace broken parts.
Tinker is part of a close-loop system where the owner is encouraged to return broken parts to the manufacturer in exchange for a replacement at a reduced price. This benefits the manufacturer (as materials can be salvaged and re-used in future parts) as well as the consumer who has the support network behind them to fix their products and never needs to dispose of an entire appliance again. Through engaging with Tinker and the system that supports it, hopefully consumers will come away feeling educated, empowered and expecting more of the companies who provide domestic appliances.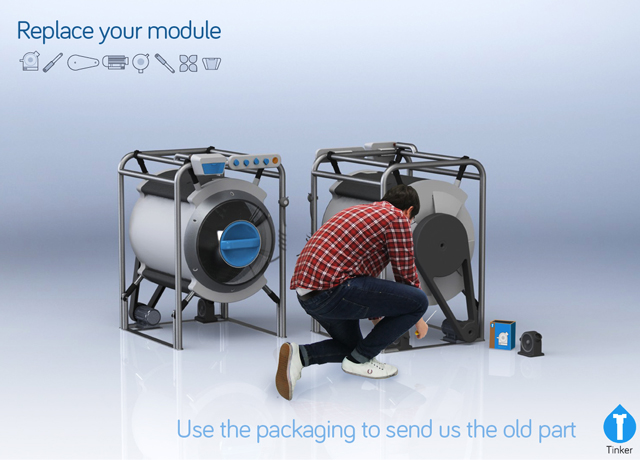 Working on the Change Makers brief with the RSA has given me a new perspective on what considered design can achieve, apart from being commercially successful; it can be used to encourage change. It also gave me a direction to pursue for my graduation project Bloom an exposed inkjet printer which can be mounted to a wall. In many ways this is a continuation of the themes raised by the RSA in the Change Makers brief which I am very thankful to have been a part of.­